Asbury Park Press, April 20, 2003
Everyone knew that for William Lashovitz, being a builder was inevitable. Everyone, except Lashovitz.
But he could not resist his calling. "It was in my blood," said Lashovitz, who goes by the nickname Bill and is the co-founder and president of RBA Homes in Red Bank.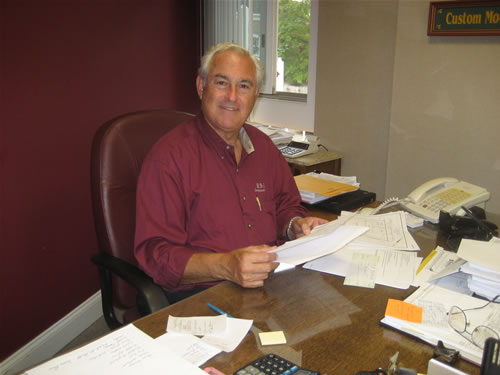 Building does run in his blood; his father and both grandfathers were all builders. "I really preferred not to get into the building business because of all the problems they always had," said Lashovitz, referring to the typical difficulties home builders face - dealing with subcontractors, ensuring supplies are available, etc.
To avoid those aggravations, Bill Lashovitz, who was born near Newark and moved to Bradley Beach with his family when he was 13, grew up to become an accountant. Although his parents were "a little disappointed" he didn't go into home building, they still encouraged him.
As a CPA, Lashovitz spent many years doing public accounting, commuting to New York City. Lashovitz and another certified public accountant, Henry Honig, often commiserated about their daily trek into the city. He found himself thinking more and more about it, and reconsidering his father's profession, and less about accounting.
Then, in 1984, it finally hit him. Bill Lashovitz woke up one day and said "I'd rather be building."
He and Honig decided to start a
commercial real estate business, Red Bank Associates. They bought two buildings in Red Bank.

Bill Lashovitz's father (who is now deceased) was not surprised that his son decided to enter the real estate business; he thought it was inevitable and gave his son encouragement. Lashovitz's wife,
Ann Beth, also encouraged him. This support made the transition easier for him.

To start their business, the two partners used their savings. Although they had
some nervous thoughts, they went forward with the investments. "The properties were excellent," Lashovitz said. "We felt we really couldn't go too wrong."

Although they had left their jobs, the partners continued to do accounting work on the side. Lashovitz also owned some residential properties that provided additional income.
The partners continued buying properties. In 1986, one of Lashovitz's attorneys asked him if he wanted to buy three lots he had in Neptune. Lashovitz, who had been reading a lot about modular construction, was intrigued with the idea of buying the lots and using them for modular homes.
About six months later, after doing some research and visiting several modular home manufactures, Lashovitz and Honig bought the lots. They formed RBA Homes, which would focus on modular home construction.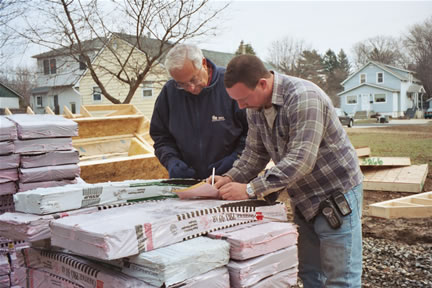 Bill Lashovitz describes a modular home as one that would normally be built on a lot but instead is built on an assembly line in a factory. The homes are 80 to 85 percent complete in the factory.
According to the Manufactured Housing Institute, 22 million Americans lived full-time in 10 million manufactured homes in 2000. And in 2001, one home out of every 7.5 new single-family housing starts was a manufactured home.
Lashovitz was interested in modular homes because he thought that manufacturing a home on an assembly line would revolutionize the home industry the way assembly lines revolutionized the auto industry. A modular home can be manufactured in about five to seven days, he said. It is then wrapped and shipped to the site. The sections (usually four for the typical single-family home) can be assembled and made weather-tight in a day or two.
"You can almost do anything with this kind of construction," Lashovitz said. "The quality is excellent. These modulars have to be very well built in order to withstand the transportation and lifting."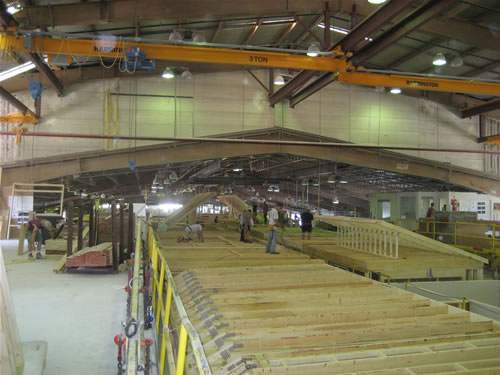 Lashovitz and Honig assembled one modular home in Neptune and held an open house. It sold quickly. Lashovitz said to himself, "This is the way to go." After they sold homes on the three lots, they bought 12 more lots near the Jumping Brook Golf Course. They used the same formula as before and built three model homes. These, too, sold quickly, along with the other lots.
Things were going well for the partners until the late 1980s. Bill Lashovitz and his partner had bought lots for 17 homes in North Brunswick. They had built eight homes when the real estate market took a dive. Nobody wanted to buy anything." Lashovitz said. Building model homes on spec and then trying to sell them was now very risky. But Lashovitz noticed that he still had requests from people interested in building homes on their own properties.
He decided to focus on this business, and RBA Homes became a contractor for people building custom homes. Today, the company does both contract building and building on spec, having started building on spec again in 1994, as the market improved. Lashovitz prefers to focus on contract building unless he sees a "real good opportunity."
His partner, who decided to go back to accounting full-time after the downturn in the real estate market, sold his share of the business to Lashovitz about eight years ago.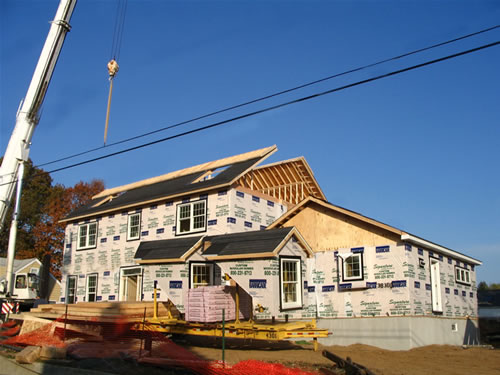 RBA Homes builds custom homes. "Better than 90 percent of our homes are customized from start to finish by our company, with our customer," said Lashovitz. The typical modular home he sells has two stories and ranges from 2,000 to 3,500 square feet. "We'll start with a plan that people customize to their liking," Lashovitz said. From the time customers place an order to the time they can move into their home is about four months -- even less if the home is a ranch or not customized. A site-built home can take nine months or longer, Lashovitz said.
He added that his homes are 15 to 20 percent less expensive than comparable site-built homes. "Business is very strong," said Lashovitz, who builds about 15 homes each year and gets most of his business from referrals. He attributes his success to low interest rates and high demand for homes around the Shore area. A lack of confidence in the stock market has also led more people to invest their money in real estate.
"They preferred to take money out of the stock market and rip down that vacation home they had along the Shore and build something they could live in year around," Lashovitz said.
Bill Lashovitz, 63, lives in Middletown with his wife of 39 years. Although there are now more builders in the modular home construction business, he is not planning on slowing down. Instead, he expanded his business last year to enable him to build more homes.
He likes the satisfaction he gets from seeing a customer who is happy with a home he has built. "That, to me, is the reason why I love the business, modular home construction so much," Bill Lashovitz said.