... Tremendous flexibility in style and luxury features ...
give us the opportunity to customze almost anything...
Red Bank, Red Hot Magazine
Fall Issue, September 2009
The word is finally getting out — and fast — that you'd be hard pressed to tell the difference between an assembled modular home as compared to its traditional (or stick-built) counterpart. Coupled with other benefits inherent in this system-built, assembly line process, "Modular construction is a WINNER," says Bill Lashovitz, president of RBA Homes in Red Bank, NJ.
"There are three main reasons why I thought this was a winner for us," he concluded, when
researching the industry before launching RBA Homes, out of Red Bank, at 252 Broad Street, in 1986. "There was nothing else that could beat it. Quality, price, and time. These elements
were so significant, why would anybody build any other way?"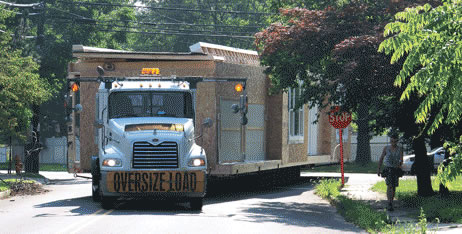 But, there is nothing cookie-cutter about RBA Homes, Bill insists. During the home planning
stage, the customer works closely with the design team to create a floor plan that meets their individual lifestyle needs, designs a distinctive "look" for the exterior of the home and develops a list of custom specifications that work within their budget expectations. "We offer tremendous flexibility in style and luxury features that gives us the opportunity to customize almost anything," he says. This flexibility may even include collaborating with local architects to personalize the elevation of a custom designed home.
According to Bill, an average modular home costs less than a traditional-built home of comparable size and can be completed in about half the time. In terms of quality, modular construction is excellent because it is assembled indoors in a climate-controlled factory environment, and the work is performed by specialized crews with quality control testing all along the way. The modular units are shipped to the site, and then lifted onto the foundation in sections by a large crane and installed perfectly in place.

Because of the extra stability needed, the modular manufacturers use 20% to 25% more wood in the modular building process. This results in "tighter, quieter, and more energy efficient homes," notes Pandora Jacoubs, head of sales and marketing at RBA Homes.

Modular homes are constructed and partially assembled at the factory — a home consisting of two to four modules, or sections, will be completed in six to ten days — and include all wiring and plumbing; even the walls are painted and, if the homeowner wishes, tile or carpeting installed, Bill explains. By the time the house is put together on the owner's lot — which has been made ready by RBA Homes in terms of demolition and/or excavation and a traditional foundation — about 80% is already completed.

Bob Vila's Website calls:

"Modular Homes
the Hybrid Car of
the House
Building Industry."
That's when the RBA team really goes into action. By marshalling a stable of experienced and trained subcontractors, RBA then begins to add the finishing touches and custom treatments that are a hallmark of their product. "We take pride in our reputation of delivering custom built modular homes on time and within budget," says Bill.
An accountant by trade, Bill, a CPA, is no stranger to construction: his father and grandfather were in the business. He originally thought this was not the kind of business he wanted to be in. However, after commuting to New York for 25 years, in a "quality of life career change", he gravitated to real estate and in 1984 purchased several commercial buildings in Long Branch and Red Bank. RBA Development Corp., now trading as RBA Homes, was established in 1986 and has operated from its Red Bank offices since. "I always thought Red Bank was dynamite," he says. Our first modular home project was a small neighborhood subdivision in Neptune, NJ in 1986.
| | |
| --- | --- |
| | RBA has built a lot of custom homes since then. In fact, just last month they delivered and set three modular homes in Monmouth and Ocean Counties. In addition, RBA Homes has become involved with a number of commercial modular projects. All this activity is keeping the core staff of five very busy: Bill, who is president; his daughter Niesa Silverberg, who handles administration and design; Pandora Jacoubs, who heads up the sales and marketing team; Bob Dull, who is in charge of field operations; and Eileen Brennan, bookkeeper, front desk, and service coordinator. As Bill puts it, "we all work as a team to do whatever is necessary to get the job done properly." |
RBA has built a large variety of homes in many towns over the years and continues to build higher end custom modular homes in areas such as Rumson, Fair Haven, Sea Girt, Spring Lake and Colts Neck. Bill says, "People no longer hesitate to consider modular construction because they have learned that it's no longer boxy looking." "With new engineering techniques we create unique and personal designs." As for the modular concept, its popularity will only increase. "Today, we don't have to sell modular anymore," Pandora says. "People are committed, and they come to us knowing it's a better product, built by a well respected builder with an excellent reputation of over 23 years experience in the building industry, located right here in the Red Bank area."
RBA Custom Built Modular Homes
Ocean County Builder
Monmouth County Builder
Central New Jersey