The Two River Times, December 22, 2006
Asbury Park Press, December 31, 2006
Custom modular home construction. It was just a few weeks before Christmas. Greg Wells and his girlfriend of four years, Erin Boyer, were standing in the cold, watching their new, 2,200-square-foot house about to be completed. They had closed on a vacant lot in Highlands on August 1, and couldn't believe that they would be in their new home in time for the holidays.
But even more amazing to their soon-to-be neighbors was the fact that just that morning stood nothing but an empty foundation. This was a modular home and RBA Homes of Red Bank was getting ready to set the final module. Little did Erin know that this last "box," as they are called in the trade, contained an even greater gift.
Following his plan to get Erin away from the house for a bit, Greg nonchalantly suggested that they leave to get some warm coffee. As they drove away, a team of "elves" sprung into action. These particular elves were the people at RBA Homes, the home builders, who were in on Greg's plan.
They ran into the new house, upstairs to the loft with a view to Sandy Hook Bay, and spread rose petals around the floor, along with dozens of red roses, champagne and two flutes. Just after they scurried back outside, Greg and Erin returned and excitedly crossed the threshold to see their new house.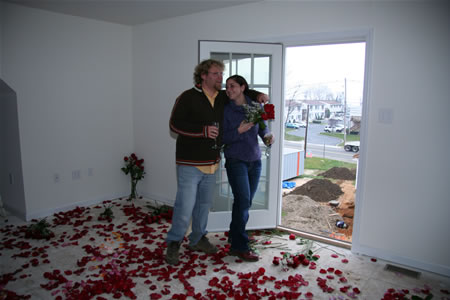 The couple spent a bit of time looking around the downstairs, delighting especially in the spacious kitchen. Finally, they went upstairs, while the onlookers outside held their breath.
Silence, silence, and then, Erin opened the window and yelled down, "I said yes!"
The proposal was a great moment; with Erin crying with happiness and Greg bursting with excitement. Erin claims that she was clueless; having no idea Greg would pop the question that day. "I thought this day was already amazing; I didn't think it could get any better," said Erin.
It was only a few months ago that Greg and Erin decided to look for a house. They assumed they would buy a small fixer-upper, and wanted to look in Highlands, New Jersey, where property values were still affordable, and commuting to their jobs would be convenient.
Then, they saw a small bungalow across from the ferry station, and thought perhaps they could renovate it. But after this plan proved impractical, they inquired about the empty lot next door.
Next thing they knew, on June 1, Greg and Erin's offer for the property was accepted. Erin's mother gets the credit for suggesting that modular construction might be a good way to go -- custom modular home construction is affordable and quick.
But it was Greg, affectionately called the "research king" by Erin, who really sprang into action, scouring the Internet to find the best company to work with. His search led him to RBA Homes in Red Bank, among others.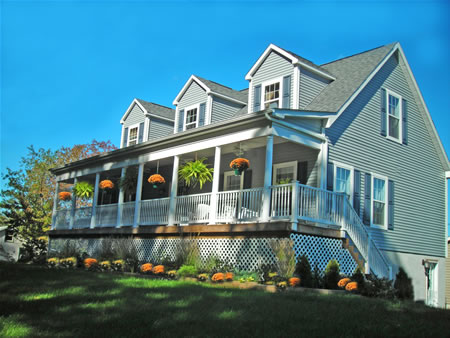 "We liked RBA the most; they did what they do best, they listened to our needs," said Greg. Erin added that a few of the other builders talked about the million-dollar homes they had build, totally ignoring the couple's modest budget and the fact that this was a starter home project. Read more from Erin and Greg on RBA's home buyer testimonials page.
Greg is feeling proud these days, excited that his plan worked out, and also very happy that he and Erin can build their future together in a new home, rather than struggling with the problems of an older "handyman special." The floor plan used for Greg and Erin's custom modular home construction can be seen on the RBA modular home floor plans page.
Erin says she is still floating on air. Nov. 29 will always be a day to remember -- the day she crossed the threshold of her new home and found a great surprise inside.
For more information see the RBA Web site RBAHomes.com, or call 732.747.3800. Monmouth County Builder Custom modular home construction by RBA Homes.