Demolition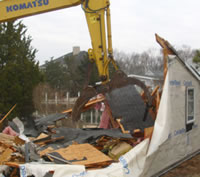 Pilings

Setting

Construction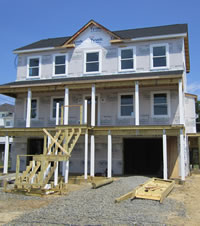 Finish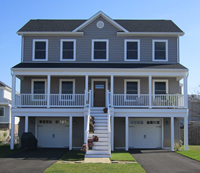 Red Hot Magazine
January 2014
The flood tides of Hurricane Sandy may long since have receded, but for many shore residents with low-lying storm-damaged homes, the nightmare continues. Those with salvageable dwellings were eager to make them once again livable, and resume life as it was before October 29, 2012. But instead of proceeding with caution, some rushed to remediate with results that were regrettable and often preventable.
Fueling residents' fears over not taking immediate action was (and still is) confusion over myriad vital matters. In the whirlwind of misinformation, people heard that if they didn't quickly "raise" their homes, insurance rates would skyrocket (conversely, a house that is not lifted may, depending upon various factors, including the degree of sustained damage, suffer devaluation and insurance uncertainties). Since Sandy, many people remain unclear about payouts from their insurance carriers, FEMA, as well as municipal regulations governing new foundation height requirements (some towns exceed FEMA mandates). There is a host of other problems, not the least of which are homeowners who can get stuck with shoddily renovated houses that don't pass muster with local building inspectors.
For them—many of whom are, at this moment, doing nothing because they don't know what to do (or they are fighting with their insurance companies for more money)—the storm is by no means over. "Looking back on Sandy more than a year later, people still have a lot of decisions to make," says Pandora Jacoubs, a construction industry veteran who heads up sales and marketing at Red Bank-based RBA Homes, a custom modular home builder (RBAHomes.com). Often lacking in the process, she believes, is an awareness of viable options.
Bill Lashovitz knows a lot about options when it comes to construction, having been in the business for the past 28 years and earned a reputation for quality high-end work. As president of RBA Homes, Bill sees modular as the viable solution for many of the owners of storm-damaged homes. "People have experienced a huge epiphany," he says. "They know modular is a well built product, they know it's system-built in a controlled indoor factory environment, and they know that, in general, modular is a faster process than stick built,"
According to Bill, elevating a damaged house is not always the best option for homeowners faced with remedial dilemmas and decisions, and for reasons that may include a host of unimagined problems and costs.
"It begs the question at this point," says Bill, "might it not be better, short term or long, to raze the old structure and build a new one in its place?" Costs are fixed with modulars, virtually down to the penny, while costs for reconstructed homes are open ended, notes Pandora. "A modular buyer can customdesign an energy-efficient new home while benefiting from a 10-year home owner warranty that is fully transferable should they decide to move," she continues. "It's a great sales tool," says Bill.
"We've had to learn an awful lot, about new flood elevations, FEMA codes, new construction techniques, and financing options, because that's what people still devastated by Sandy need," says Pandora. "We're here to help."